Lays Airtel Code Redeem
Lays Airtel Free Data Loot – Free 2 GB Data With Lays Chips Packs | How To Redeem
---
Lays Airte Data Offer , Lays Airtel Free Net , Lays How To Redeem Airtel Code – Hi Guys , Hope You Are Enjoying Our Free Recharge Tricks & Free PayTM Cash Offers. We Are Regularly Posting All Free Data Tricks For Jio & Airtel. Here is One More Trick To Get Free Data In Airtel With Lays.
Recently , We Have Posted The Kurkure Airtel Free Data Trick. Airtel is Offering The Free Data On Pepsico. Products Like Lays, Pepsi , Doritos Chips Etc. Here is One More Method To Grab The Free Data in Your Airtel SIM Card. We Have Already Published The Full Detailed Article to Get Free Data Internet In Airtel.
Must Check Out – Airtel Free Data Internet Tricks | Working Airtel Free Data Methods
Also , We Are regularly Posting The Jio Free Data Tricks collections. We Have Already Added The 20 GB Free Jio Data Tricks In That Post. Must Check Out That too.
We Have Already Seen Kurkure PayTM Offer In Which Kurkure is Giving Away Free ₹10/20/30 PayTM Cash In Each Pack. Now They Are Providing Free Airtel Data With Each Packs.
---
Lays Airtel Free Data Offer – How To Get Free Data In Airtel 
Same Offer is Also Available On Some PEPSICO Products Like Kurkure, Doritos and Uncle Chips
1. First Of All Just Purchase The Lays Chips Pack Of ₹10 or ₹20 From Your Nearest Store
1GB Data With ₹10 Lays Pack & 2 GB Data With ₹20 Lays Pack
2. Make Sure Airtel 2 GB Free Data Offer is Mentioned On Pack
3. Now Finish The Tasty Lays Chips From The Pack & You Will Find Unique 12 Digit Airtel Promo code Inside The Pack
4. You Can Redeem This Code On Airtel Thanks App & Get Free 1 GB or 2 GB Data. Follow Below Process To Redeem This Airtel Lays Code & Get Free Data
How To Redeem Lays Code In Airtel Thanks App
1. First Of All just Update Latest Version Of Airtel Thanks App or Download From Google Play Playstore
2. Finish the Lays & Copy The 12 Digit Code You Got From Lays Pack
3. Now Open Airtel Thanks App & Click On 'My Coupons' Section

4. Paste Your Lays Airtel Free Data Code In 'Have a Coupon Code' Section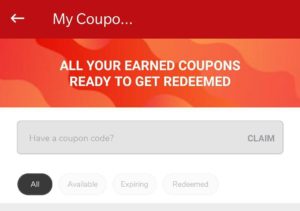 5. Lastly, Click On 'Claim' Button
6. Done !! Your 1 GB or 2 GB Free Airtel Data Will Be Added In Your Account Instantly.
7. You Can Follow Same Process With Codes You Received From Kurkure, Doritos and Uncle Chips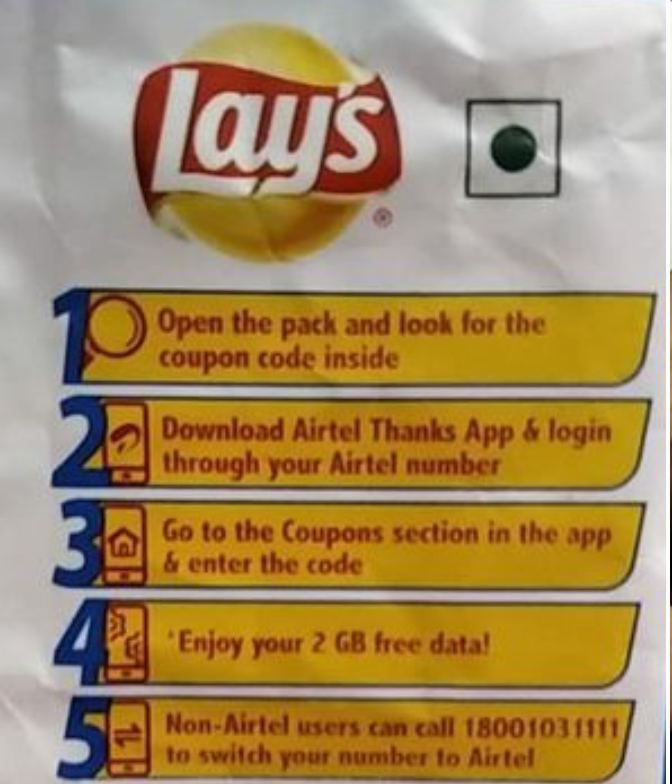 Lays Airtel 1gb free data code numbers

:
Below are the Lays airtel Free data code of Free 1 GB or 2 GB Airtel Data
| Lays Airtel Codes | Free Data |
| --- | --- |
| PEIGB6QGW1AM | 1 GB Free |
| PE5I6KHUCQBL | 2 GB Free |
| PESQMCW4NWGJ | 1 GB Free |
| PE27U0W0FUEQ | 1 GB Free |
| PEA02VZGOB9V | 2 GB Free |
| PE228KM7W88W | 1 GB Free |
| PEYJZDAGDK8X | 1 GB Free |
| PEXMMYV4MZBG | 1 GB Free |
| PEIH6KFQM6AM | 2 GB Free |
| PEASK41C8BBAQ | 2 GB Free |
| PEASF40C8BBQ | 1 GB Free |
| PEIGB6QGW1AM | 1 GB Free |
| PE5I6KHUCQBL | 1 GB Free |
Lays Airtel 1gb free data code numbers
Please Note – If Any of This codes are showing Error then that means that code is already redeemed by someone else.
This codes are 1st comes 1st serve basis & 1 person can only use 3 codes in 1 Airtel account.
All This codes are personally shared by our users in our Telegram channel & we have tested it working.
Lays Airtel Offer Validity

:
The Validity of Lays Airtel Free data offer is From Aug 15, 2023 to Mar 31, 2023.
After Successfully Redeeming the Lays code in Airtel Thanks App Free Data is Valid for 3 Days Only.
The Airtel PepsiCo data promo offer is available across Lay's and its variants of MRP Rs. 10/- and Rs. 20/- Where 'Airtel PepsiCo data promo' offer is mentioned between the period of Aug 15, 2021 to Mar 31, 2022.
Lays Airtel 1 GB Free data validity
Lays Airtel 1 GB Free Prepaid Data Validity is Fixed for 3 Days Only After Redeeming In Airtel Thanks App.
Though, This Lays Airtel Offer is valid till 31st March 2023 but after redeeming the Lays airtel code in Airtel Thanks app , we have to use the Airtel data within 3 Days Only.
Please note one Lays promo code can be redeemed only once and a maximum of 3 Lays promo codes can be used against every unique Airtel prepaid mobile number.
Participation in the promotion is only through the Airtel Thanks app. Make sure to download the latest version of the app from Google Play Store/Apple App Store or update your app to the latest version (for existing users of the app).
Lays Airtel offer last date

:
The Promotional period Of this Lays Airtel offer is Aug 15, 2022 to Mar 31, 2023 That means the 31st March 2023 will be last date of Lays airtel offer.
The amount of free data (1GB/2GB) available against any promo code would depend on the MRP of the pack purchased by the participant. Airtel PepsiCo promo codes can be redeemed till 23:59 hours IST of March 31st, 2023.
Airtel & Pepsi Co Partnership

:
The PepsiCo-Airtel partnership has been in existence for almost two decades. Airtel has been the official carrier of PepsiCo products since 1996, and is today one of the largest food service providers in India. This partnership will further strengthen their relationship with each other as well as build a long-term business for both companies.
The relaunch of the Airtel-PepsiCo partnership will be through an exclusive co-branding initiative. This program will include the offering of some very popular and demanded products to its customers, which are already on offer by PepsiCo India.
The new branding campaign for PepsiCo in India will be launched This Week. The relaunch is an extension of the current partnership between both companies. This move is aimed at strengthening their existing relationship and promoting more effectively these brands in India.