Bajaj Finserv Games Answers
Bajaj Finserv Wordle N Win & Find N Win Game
---
Bajaj Finserv app has launched a few games, these games allow users to earn free Bajaj Coins, which can be converted into mobile recharges or bill payments. Last time, You all earned Rs.20 Free Recharge from ePayon App, Today Play games & Earn Free Bajaj Coins in Bajaj Finserv App.
We are adding Bajaj Finserv Answers of Bajaj Finserv App Games. There are two games available to play to win Free Bajaj Coins. Find N Win Game & Wordle N Win Game.
As players successfully complete the challenges and tasks in these games, they earn Bajaj Coins. These coins, in turn, can be converted into benefits such as mobile recharges or bill payments. See more details with Answers from below.

How to Play Bajaj Finserv Games?
1, First of all, Download the Bajaj Finserv App from Playstore.
2. Register yourself with Mobile Number.
3. Verify the number with OTP.
4. Now, On the homepage, Search "Game".
5. On searching Game, You will see many options, Select the Find N Win or Wordle N Win Game.
6. See the answers from below & Give it.
7. After Completing Games, You will earn Free Bajaj Coins.
8. Bajaj Coins are convertible into Free Recharge.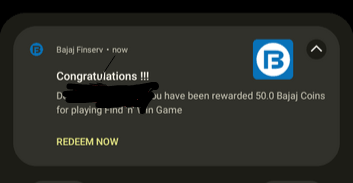 Bajaj Finserv Find N Win Game Answers
One of the exciting games within the Bajaj Finserv Game collection is "Find N Win." This game presents a virtual reality setting where players need to hunt for specific items based on given clues. Each item is placed on different places, and players must locate and tap on these items within a time frame to earn Bajaj Coins.
a red-colored kitchen item – Answer – GAS CYLINDER – 90° Right side
something used for scanning and payment – Answer – QR CODE – on table in front of sofa, also in front of TV.
an object to brighten a room – Answer – STANDING LAMP – Left side of TV,
a pocket-sized vehicle starter – Answer – KEYS- 90° Left side hanging on the wall Cupboard
an item used to communicate with loved ones – Answer – MOBILE – 180° behind on table side of Bed
Bajaj Finserv Wordle N Win Answers
Another captivating game within the Bajaj Finserv Game is "Wordle N Win." This game offers a three-dimensional virtual reality experience where players need to scroll through the screen to collect words and construct sentences within a limited time frame. The challenge is gathering the correct words in any order to complete three sentences.
Each sentence completion should be done in a time limit. Players must think quickly and strategically to choose the words that fit seamlessly into the sentences before the clock runs down.