Binance WODL Quiz Answers Today
Binance WODL Quiz Answers Today – Hello Guys, You all are earning regular Free Crypto from Binance Learn & Earn Game. Today, Binance is back with Binance Crypto WODL Game. Easily See All the answers of Binance Crypto WODL Game from Here & Earn Free Rewards.
Binance Crypto WODL Game is about finding the words related to Crypto & Making the Correct words will give you Rewards. You have to Win Atleast 5 Games to Eligible for Winning Rewards from Binance. We are giving away All Correct Answers of WODL Game, So you can win every game easily. You can get extra chance by sharing the Binance News on any social Media.
At the end of Activity, All the Eligible Users will get Up to $5000 worth Free BUSD Tokens. It will be transferred after the end of contest.
How to Play Binance Crypto WODL Game?
First of all, Download the Binance App from here – Click Here
Sign up or Login into your account with Email or Phone Number.
Move to Dashboard & Convert the Binance to Binance Pro.
Now, On the Dashboard Select the Option 'More'.
Go to Gift & Campaign Section.
You will see the Option of WODL there, Click on it & Game will Start.
Note: You can Play 2 Times Daily of WODL Game. For the Second Chance, click "Get A New WODL". Share one of the selected articles of the day on social media. You will get Second Chance.
Green Tiles will give you correct answer.
Yellow Tiles will give you correct word but not correct postion.
Grey Tiles are the wrong answers.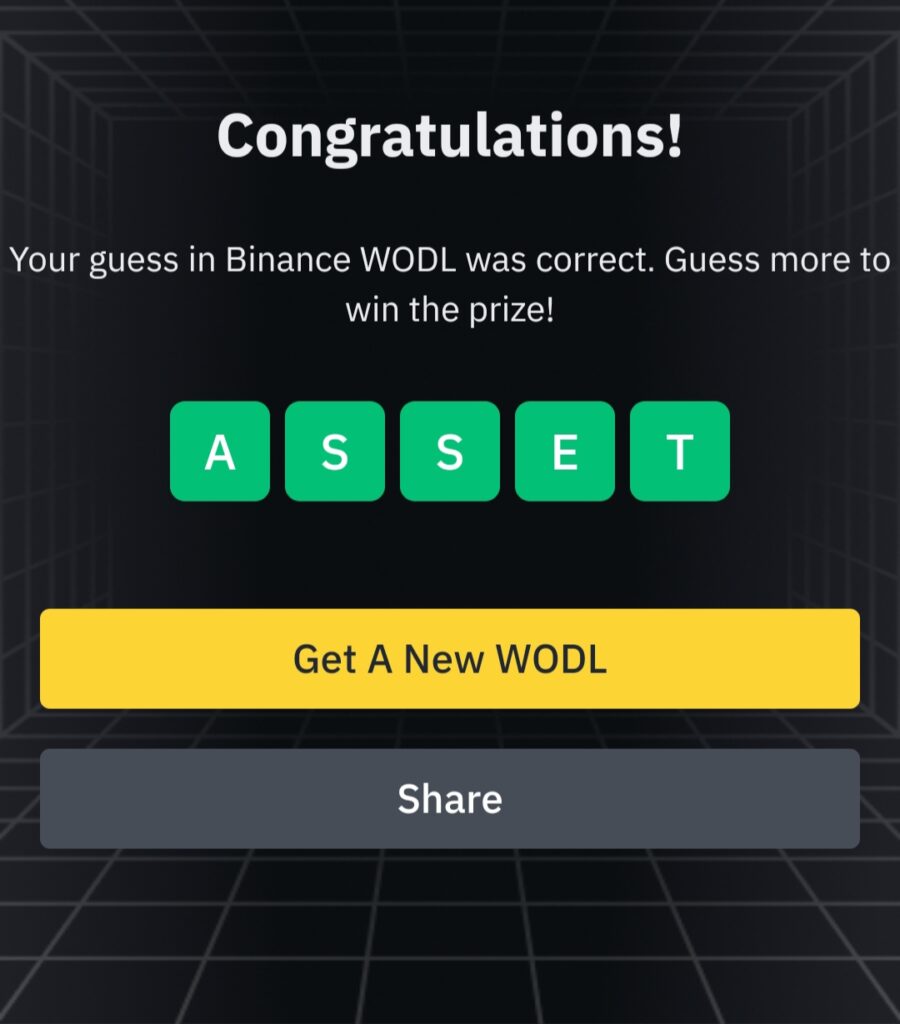 Correct Answers of Binance WODL Game Today

[1st July]
Letter
Words
3 Letter WODL Words
API
TAX
DEX
4 Letter WODL Words
GIFT
SAFU
DEFI
VOTE
5 Letter WODL Words
ORDER
TRADE
MODEL
TRAIN
CROWD
6 Letter WODL Words
VOTING
CODING
PROMPT
CRYPTO
7 Letter WODL Words
PROTECT
PREVENT
ANALYZE
PREDICT
EARNING
DYNAMIC
CHATBOT
8 Letter WODL Words
PLATFORM
FEEDBACK
OPTIMIZE
AUTOMATE
COMPOUND
GREATEST
Binance Crypto WODL , Old Answers
Letters
Word
Three letter words :
NFT
Four letter words :
FANS
RARE
Five letter words :
PERKS
QATAR
KICKS
SUPER
Six letter words :
SPORTS
LEGACY
ICONIC
CAREER
STATUE
Seven letter words :
AUCTION
PREMIUM
RONALDO
SPECIAL
SUPPORT
STATUES
UTILITY
Eight letter words :
FOOTBALL
ANIMATED