Born Good Home Cleaners Free Sample
[फ्री का लूट] Born Good Home Cleaners Trial Pack For FREE | 4 Free Products
---
Freebies, Free Sample In India, Born Good Home Cleaners Free Sample – Hello Coolz Readers!! You guys must have a loot on Free Sample In India Post from here and you will get many freebies at your door steps!! Now in this offer , All the looters will receive born good home cleaners trial pack which contains total 4 Free Trial Packs of Born Good Products.
The ordinary cleaners you've been using all these years, the same ones that are meant to care for your home and clothes do the exact opposite. These cleaners contain toxic ingredients that are harmful for your skin, your clothes and the planet.
---
Kit Contains

:
This trial pack consists of 4 products, All USDA certified:
(1) Liquid Detergent: Suitable for front load and top load machines and also for hand wash.
(2) Fabric Conditioner: 2x softness and fresher smelling clothes.
(3) Dishwash Gel: Tough on grease and gentle on your hands.
(4) Floor Cleaner: Safe for kids and pets and you.
---
Get Born Good Home Cleaners

Sample For FREE | Try Before Buy offer :
1. First of All Open Given Link to Get Your Born Good Home Cleaners Trial Pack FREE Sample.
2. You will able to see Born Good Home Cleaners Pack and Click on Add To Cart Button.
3. You will see price of ₹0. Just click on Buy Now button.
4. Go to shopping cart & click on Proceed to checkout.
5. Fill out your shipping details.
6. There will be shipping charge of ₹99 only. But you can choose the Cash on Delivery option.
7. You will get a Confirmation mail after your successful payment.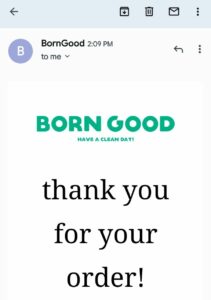 8. As this is a trial pack, Bron Good are limiting it to 1 set per customer.
---
Liquid Detergent: We've packed these liquid detergents with powerful plant-based ingredients that effectively remove stains, deep cleanse, and keep your garments smelling fresh. The contemporary fragrances do not over-power but rather linger till the next wash. Use them for your everyday clothes, linen and towels. They are suitable for front load and top load machines and also for hand wash.
Fabric Conditioner: We've formulated this fabric conditioning liquid to do more than make your garments softer. Its BioBased ingredients enter the pores of each garment, working from within to soften them while increasing their wicking properties. Its naturally hydrophilic nature helps repel dust and prevents sweat from settling on its surface, keeping your garments cleaner and feeling lighter. Add it to the last rinse cycle of your wash for optimum benefits. Plus, its spicy notes of citrus, pepper and woody musk keeps your garments mildly-scented until the next wash.
Dishwash Gel: A highly concentrated formulation of powerful plant-based ingredients make this dish-washing gel as tough on grease as it is gentle and safe on your hands. That means, squeaky clean dishes without the side effects of itchy hands, flaky skin or chemical irritation. Born Good Dishwash Gel deep cleans and degreases kitchenware and utensils effectively, using minimal water due to its concentrated formula and leaving no malodours or sticky residues behind.
Floor Cleaner: We know that a good floor cleaner can do a lot more than just wipe the ground clean. It works best when it adds value to your modern home by disinfecting your floors, adding a non-toxic lingering fragrance, and keeping it safe for kids, pets and you. And, that's what we've formulated Born Good Floor Cleaner to do. This plant-based floor cleaning liquid leaves behind no sticky residue, like traditional floor cleaners, while it effectively kills bacteria, deactivates germs, and keeps your floors squeaky clean.