Cadbury Choclairs Contest
Win Daily Free Myntra Voucher, Ipad & More from Cadbury Choclairs
---
Cadbury Choclairs Contest: Cadbury Choclairs is back with an exciting contest that will give you huge benefits such as vouchers & Freebies. Last time Cadbury Choclairs gave Free Gaming Consoles & Free Jio Recharge & Data. From 1st June 2023 to 31st August 2023, you have the chance to participate in the Cadbury Choclairs Contest and stand a chance to win amazing prizes, including daily free Myntra vouchers.
The Cadbury Choclairs contest allows you to enter a unique code, create your own Chocstar makeover avatar, and participate in a thrilling gaming experience. You'll receive a flat 15% discount on The Souled Store website with a minimum bill value of Rs.499.
Rewards
Additionally, there are daily lucky prizes up for grabs for participants who spin the wheel. Here's a glimpse of what you can win:
Myntra voucher worth Rs.250: 1,440 winners will receive this fantastic voucher, allowing them to shop for their favorite fashion items on Myntra.
Boat Airdopes 141 worth Rs.4490: 60 winners will be lucky enough to grab these trendy wireless earbuds and enjoy their favorite tunes without any hassle.
Noise Pulse Go Buzz Smartwatch worth Rs.4999: 60 winners will get their hands on this stylish and functional smartwatch, perfect for tracking their fitness goals and staying connected.
Fujifilm Instax Mini camera worth Rs.5990: 30 winners will have the opportunity to capture precious moments with this instant camera, creating memories that last a lifetime.
the mega lucky prize, an Apple iPad worth Rs.45000.
How to Get Free Myntra Vouchers, Apple iPad & more from Choclairs?
To participate in the contest, follow these simple steps:
Step 1: Enter Your Details
Visit the Cadbury Choclairs website from here and enter your name, email address, and mobile number to register. This will ensure that you are eligible to participate in the contest and receive updates about your prizes.
Step 2: Create Your Chocstar Makeover
Once you've registered, it's time to unleash your creativity. Play the Chocstar Makeover game and design your own unique avatar. Express your style, choose the perfect outfit, and let your imagination run wild. The game will bring out the Chocstar in you!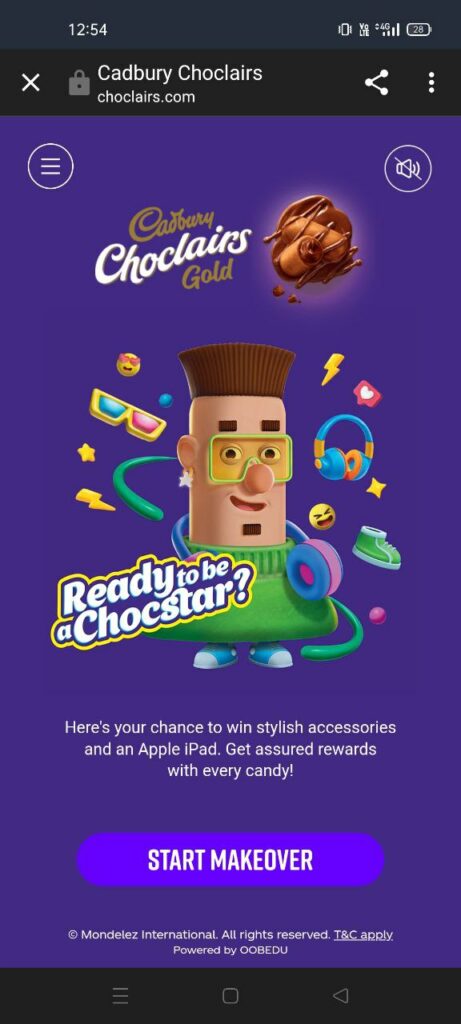 Step 3: Share Your Avatar or Claim Your Reward
After you've finished creating your Chocstar makeover, you have two options. You can either share your avatar on social media to show off your creative skills or click on "Claim reward" to redeem your assured prize. To claim your prize, simply enter the batch code from your Cadbury Choclairs pack.
Step 4: Spin the Wheel and Enter the Lucky Draw
But wait, there's more! Once you've claimed your assured prize, you can spin the wheel for a chance to enter the daily lucky draw. Exciting prizes await the lucky participants who spin the wheel.
Step 5: Play Fair and Win Big
Remember, fairness is key. Each pack of Cadbury Choclairs has a unique batch code, and it can only be used once in a single day by a participant. Attempting to use the same batch code multiple times in a single day will result in disqualification.
This contest promises to bring joy and excitement to your summer. So, don't miss out! Grab your Cadbury Choclairs pack, enter the unique code, create your Chocstar Makeover, and get ready to win big. Good luck!