Flash.co App Free Coins
Get Free Coins on every transaction on different apps
---
Flash.co App Free Coins – In the era of online shopping, who doesn't love to get rewarded for their purchases? Imagine a world where every time you shop or transact on various apps, you earn coins that can be transferred directly to your bank account. Well, that world is now a reality with Flash.co, the revolutionary shopping email ID app that brings a new level of excitement and benefits to your online shopping experience.
Flash.co is a unique platform that combines the convenience of email communication with earning rewards for your everyday purchases. Gone are the days of collecting coins on individual platforms, which are often limited to specific Apps. With Flash.co, you can earn coins on a wide range of apps, making your shopping even more rewarding.
The concept is simple yet powerful. Upon signing up for Flash.co, you will be assigned a personalized email ID, which you can use for all your online shopping transactions. This email ID acts as your gateway to earning coins with every purchase you make. Whether you're ordering food, buying clothes, booking travel tickets, or even subscribing to online services, every transaction made through your Flash.co email ID will accumulate coins in your account.
The app allows you to transfer your earned coins directly to your bank account. This means that as soon as you accumulate a sufficient number of coins, you can convert them into real money, providing you with benefits and immediate financial value.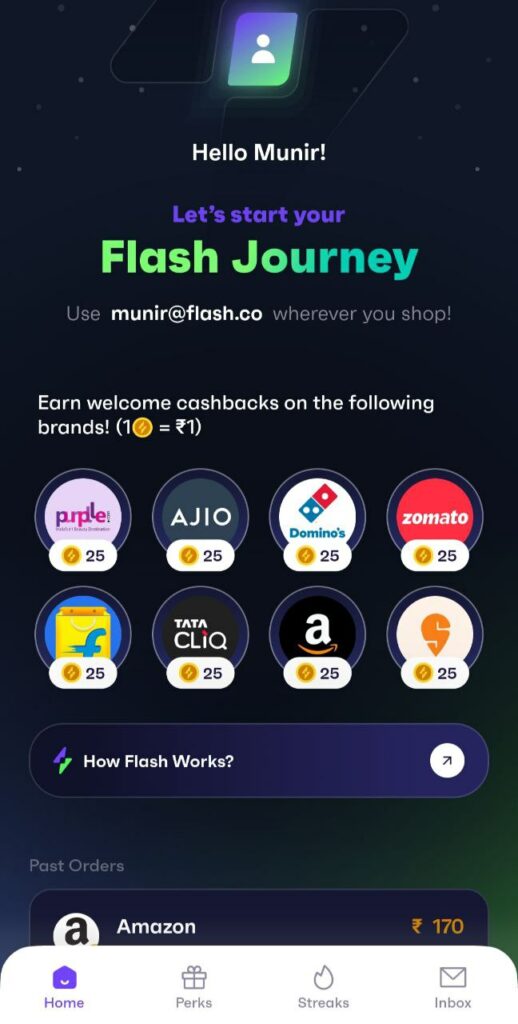 Get Started with Flash.co App & Earn Coins
1. Download the app from here – Download Flash.co App
2. Sign up using your number & email.
3. On Signup, You have to choose or make your Flash.co Personalized Email.
4. Make the email like [email protected]
5. Use this email on various apps to get cashback as coins on every order.
6. Redeem the coins easily from Flash.co App in your Bank Account. Minimum Redeem is 100 Coins.
7. You will get Free 25 Coins on signing up on Flash.co App.
Flash.co App Redeem Proof
In conclusion, Flash.co is revolutionizing the way we shop online by offering a seamless experience that rewards users for their everyday purchases. With its wide range of participating apps, instant coin-to-bank transfers, and attractive promotions, Flash.co is setting a new standard for shopping email ID apps.
So, why wait? Sign up for Flash.co today, start earning coins, and turn your shopping addiction into a rewarding financial venture. Remember, every purchase counts, and with Flash.co, every purchase earns you more than just the products you love.