Knight Club App Redeem Code
---
Knight Club App Free Goodies, Knight Club App Redeem Code, Knight Club App Referral Code: Are you a die-hard fan of the Kolkata Knight Riders (KKR) in the Indian Premier League (IPL)? If you are, then we have some exciting news for you! KKR has launched an amazing mobile application called the Knight Club App, which allows fans to collect points as Knight Tokens, play games, and redeem them for fantastic free Sample Products goodies such as cups, merchandise, and more.
Recently, we have posted Delhi capitals spin & win free goodies offer & we have most of you have looted that offer. Now here is chance to win free goodies from KKR.
The Knight Club App is a one-of-a-kind initiative by the Kolkata Knight Riders to engage and reward their passionate fan base. It provides an interactive and immersive experience for fans, keeping them connected with the team and enhancing their overall enjoyment of the IPL season.
How Knight Club App Work? [Official KKR App]
Collect Points: The app offers various ways for fans to earn points. One of the easiest ways is through referrals. By inviting your friends to join the Knight Club App, you can earn points when they sign up and start using the app. It's a win-win situation as you get to accumulate points while sharing your love for KKR with your friends.
Play Games: The Knight Club App also features a range of fun and engaging games that fans can play to earn additional points. There is a prediction of the Kolkata Knight Riders Matches, which will give you extra points. These games are designed to test your knowledge of cricket, KKR team trivia, and IPL history. Not only will you have a blast playing these games, but you'll also be rewarded for your skills and knowledge.
Redeem Free Goodies: Now comes the exciting part! Once you've collected a sufficient number of points, you can head over to the "Redeem" section of the app. Here, you'll find a wide array of exclusive KKR goodies up for grabs. From official team merchandise like jerseys, caps, and t-shirts to limited edition collectibles, there's something for every KKR fan.
How to Redeem Free Goodies from Knight Club App Referral Code?
1. Download the Official KKR App from here: Download Knight Club App
2. Open the app & Sign up with your details like number & email.
3. Enter the referral code, see below. Refer Up to 10 Friends to get Free 250 Knight Tokens.
Knight Club App Referral Code is RBRWUQXW5UOTJU
4. After signing up, You will get a Free 50 Knight Toknes as a bonus.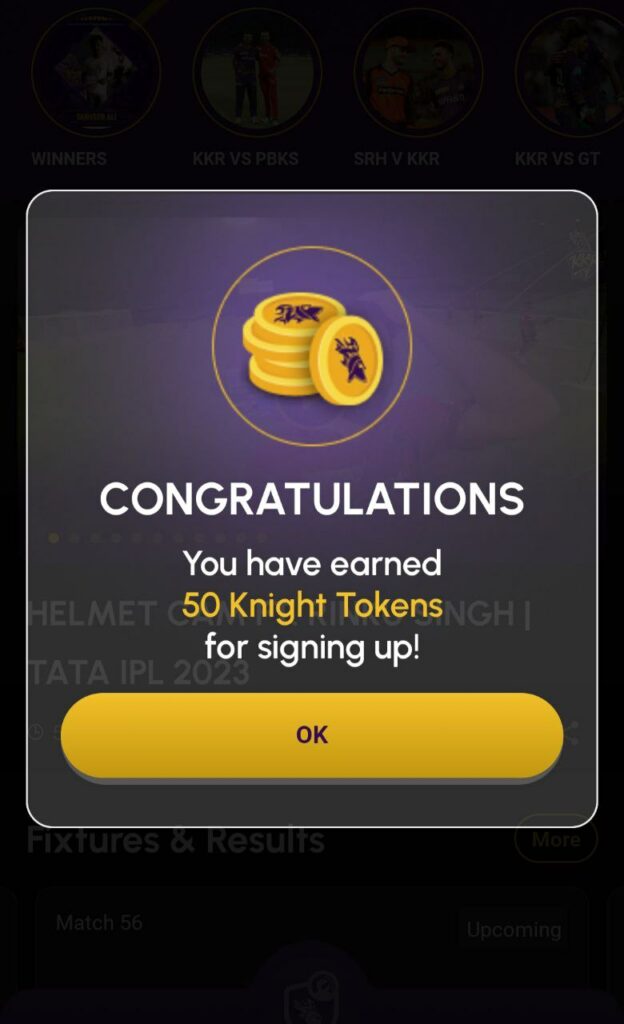 5. Scroll below on Homepage to Play games like Bingo & Prediction. Play & Win Free Knight Club tokens.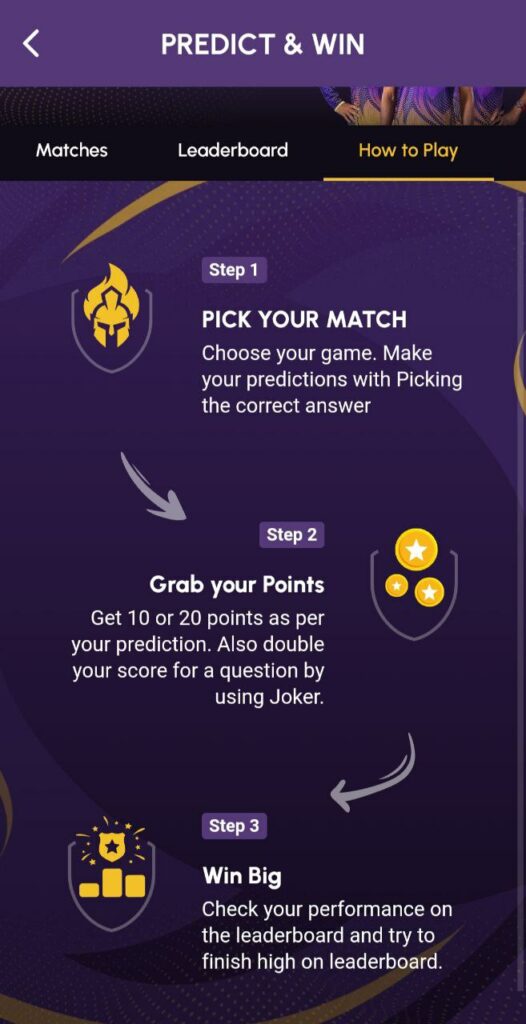 6. For Refer & Earn Programme, Go to your Profile Section.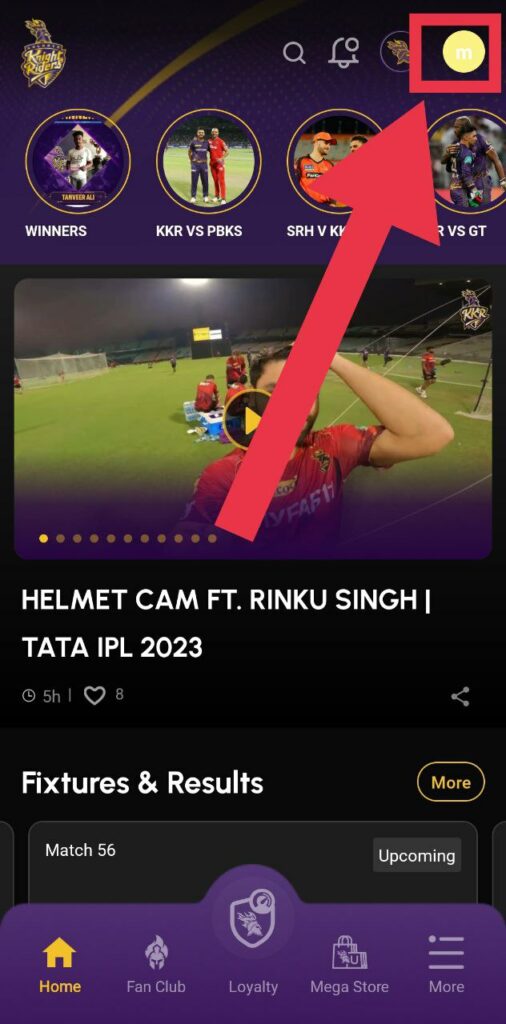 7. Share your referral code & link to your friends to join Knight Club.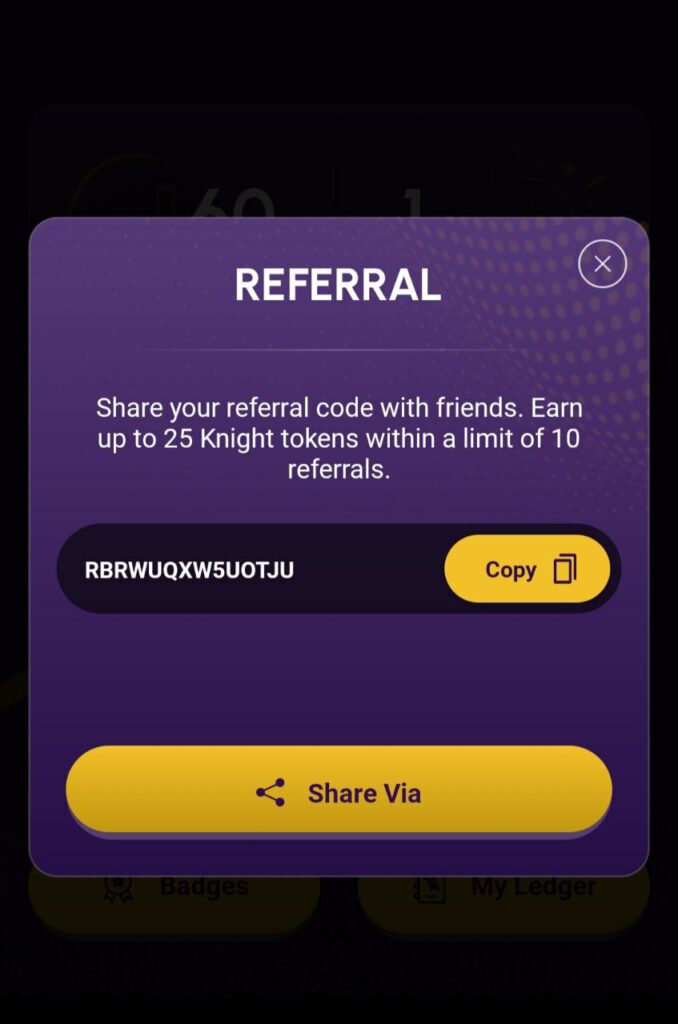 8. Play Daily & Win Free Knight Club Tokens.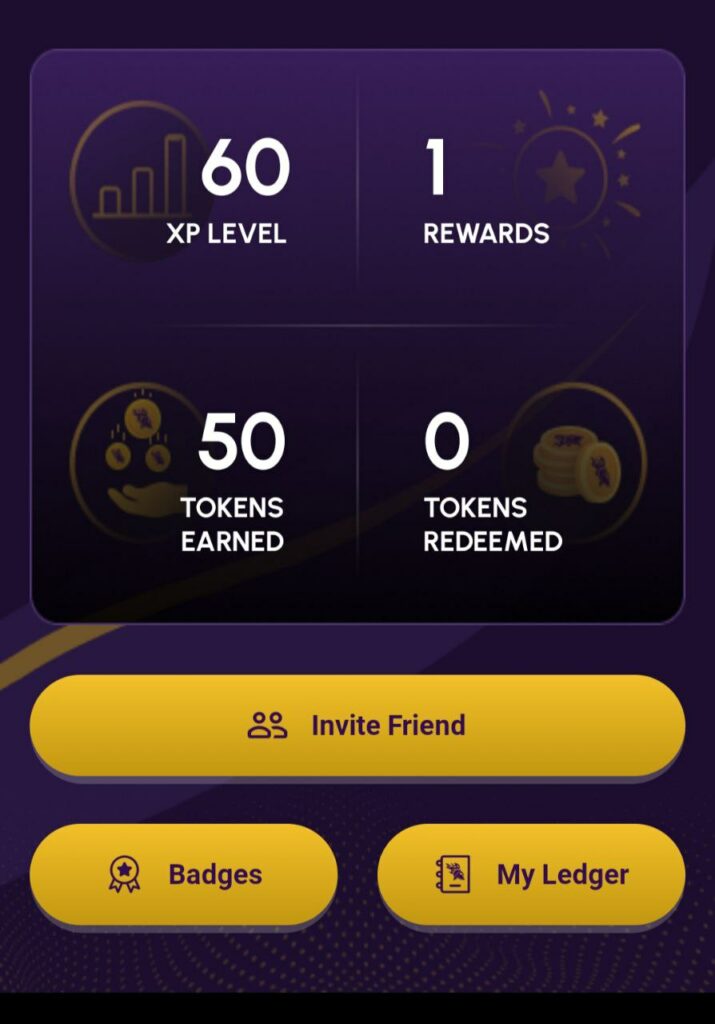 How to Redeem Code in Knight Club App? [Tokens]
1. Visit the homepage of the knight club app.
2. Go to the Loyalty section.
3. Scroll below to Redeem your Knight Club Tokens in Free Goodies & Discount Coupons.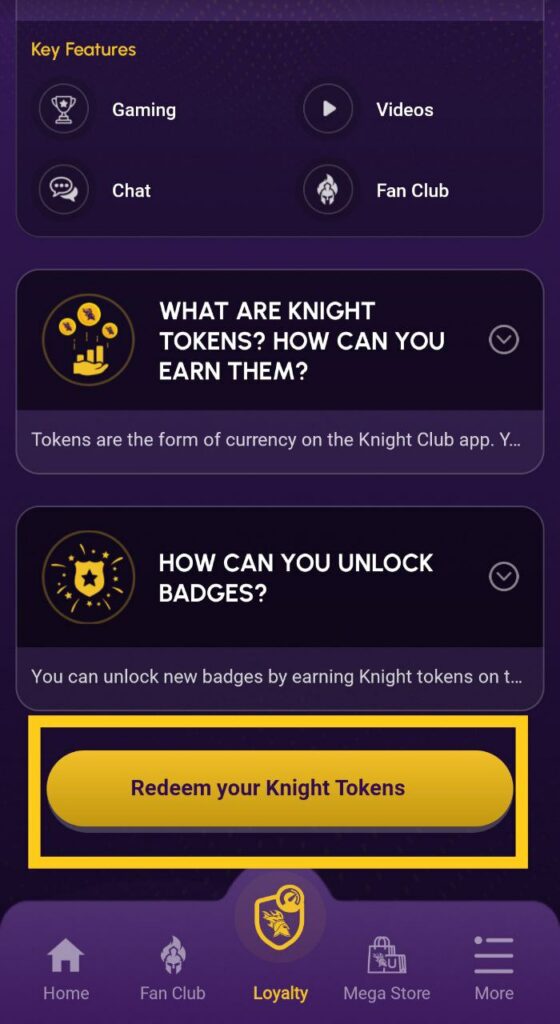 4. Select the products & Order them for Free.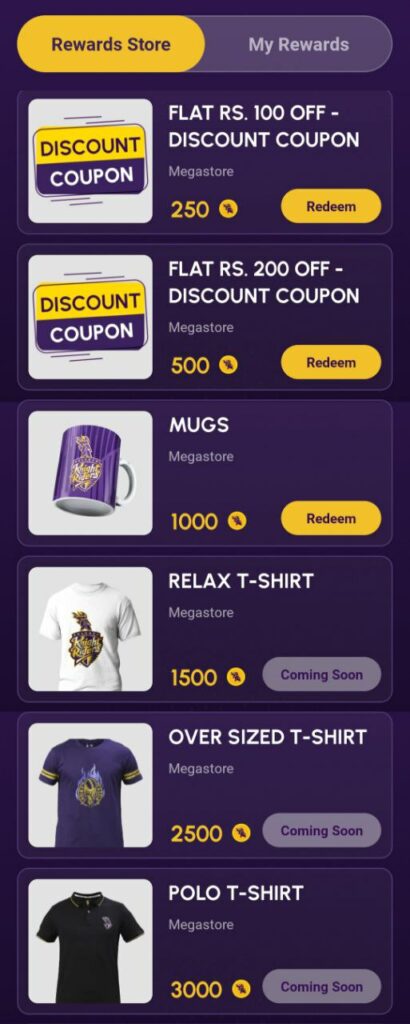 In conclusion, the Knight Club App from Kolkata Knight Riders is a game-changer for IPL fans, especially those who bleed purple and gold. It offers an immersive experience, allowing fans to collect points, play games, and redeem them for exciting free goodies. With its user-friendly interface and engaging content, the app is a must-have for every KKR supporter.
So, what are you waiting for? Download the Knight Club App today and embark on an unforgettable journey with Kolkata Knight Riders. Let your love for the game and the team be rewarded like never before! Go KKR!