Flipkart Rush & Win
Get 100% Cashback on Flipkart App as Vouchers [Rewards Up to Rs.10000]
---
Flipkart will organize the 'Rush & Win Contest', an opportunity for shoppers to win cashback rewards worth up to Rs.10,000. What's big is, participants have the chance to secure 100% cashback on their purchase orders. Must read the full details to don't miss Free Products from Flipkart.
The important part of this contest is the 'Rush Karo Cashback Pao' timer. This timer is a limited-time chance with the contest's 'first buy, first win' approach. To maximize your chances of securing the cashback rewards, all you need to do is make a purchase within the duration of the timer.
This Flipkart Rush & Win contest or sale will be live on 21st August at 12 noon on the Flipkart app. We will add the direct link of the contest or products if there to our Coolztricks Telegram Channel. Join for the latest updates on the offers & cheapest deals of various e-commerce (Shopping) websites.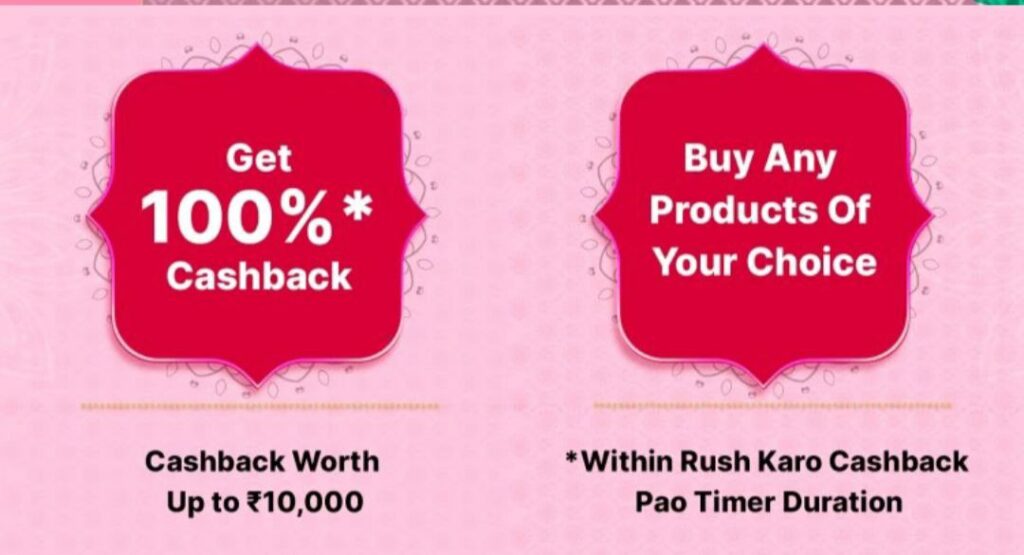 | | |
| --- | --- |
| Flipkart Rush & Win | Details |
| Cashback worth | Upto Rs.10,000 [100%] |
| Contest/Sale time | 21st August 12 Noon |
| Link | Flipkart Rush & Win |
How to Get 100% Cashback on Products from Flipkart Rush & Win?
1. Update your Flipkart app from Play Store.
2. Visit the Contest page on the Flipkart app from below.
3. Now, Wait for the 21st of August at 12 Noon.
4. Get ready at 11:45 PM for preparation.
5. Be in a place where the network is best.
6. Use Flagship or Faster phones.
7. Visit the Flipkart rush & win offer page on sale time & Purchase the product from Flipkart.
8. You will get 100% Cashback in the form of Flipkart's E-Voucher.
9. Read out more details in the form of terms from below.
More details of the contest:
Prizes are cashback worth up to Rs.10,000. Get 100% cashback on your purchase
order, based on a first buy, first win, and limited-time priority.
The purchase has to be made within the duration of the Rush Karo Cashback Pao timer.
Cashback will be given as a Flipkart E-Gift Voucher after the return period.
Eligible shoppers will receive a notification after the event is over.
Within 1-3 days after the return period, eligible shoppers will get an emailer with an activation code.
Redeem the activation code within 24 hours of receiving it; otherwise, it will expire and cannot be renewed.
Once activated, you'll receive a Flipkart E-voucher worth the cashback amount.
Use the E-voucher to buy any item on Flipkart within 3 months.