PFC Foods Free Sample
Get a Free 100gm Plant-based Chicken Nuggets Sample from PFC Foods
---
PFC Foods Free Sample, Free Sample in India: Hi Guys, recently we posted free sample from Amazon India offer. Today, Just fill out a form with your details & Get Free 100gm Plant-Based Chicken Nuggets from PFC Foods. In recent years, the demand for plant-based alternatives to meat has skyrocketed, with more people recognizing the environmental, ethical, and health benefits of adopting a plant-based diet.
PFC Foods' Plant-Based Chicken Nuggets serve as a shining example of how plant-based foods can help mitigate the environmental impact of animal agriculture. Traditional meat production contributes to deforestation, greenhouse gas emissions, and water pollution, while plant-based alternatives require significantly fewer resources.
By embracing a plant-based diet, individuals can reduce their carbon footprint, conserve land and water, and promote a more sustainable future for our planet. Order a Free Sample from PFC Foods of Plant Based Chicken Nuggets.
How to Get a Free Sample of Plant-Based Chicken Nuggets from PFC Foods?
1, First of all, Visit the offer page from here:
2. Scroll below & Fill out the form.
3. Add your correct address to get a sample at your Doorstep.
4. Enter your Mobile Number & Name.
5. Submit it.
6. Done, You will get your Plant Based Chicken Nuggets Pack at Home.
7. Enjoy Free Samples from our blogs.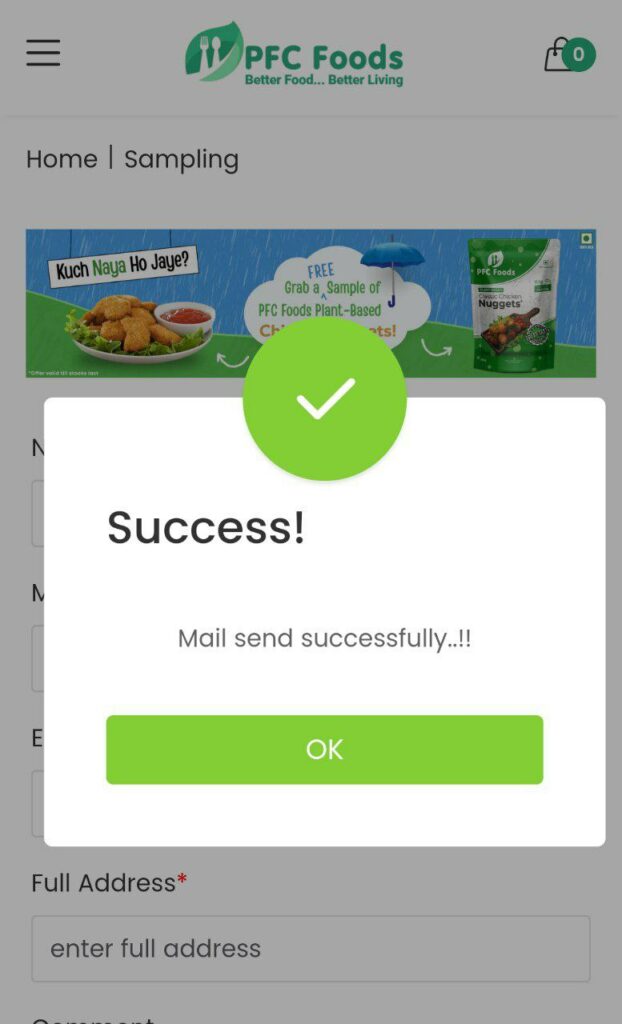 Conclusion
The rise of plant-based foods signifies a significant shift in our food landscape, presenting a solution to many of the challenges posed by animal agriculture. With their commitment to taste, texture, and quality, PFC Foods has set a new standard for plant-based options. By providing free samples, PFC Foods invites consumers to savor the future of food that is not only kinder to the planet but also enriching to their health and well-being