Nutritual free sample offer
Free Sample Loot : Claim Stevia Based Sweetner Sample Packets From Nutritual
---
Nutritual free sample offer – Hi Guys, Hope you are enjoying our free sample in India offers & free cosmetics sample offer. Here comes another freebies loot of the day from brand called 'Nutritual'. They are giving away sugar free stevia based sweetener samples. The best thing about this offer is, you don't even need to pay the shipping charge.
Nutritual is ahmedabad based company , they make stevia sugar free sachets Sweetener Powder. They are running the free sample offer on facebook, on which you just have to send them message on whatsapp, and they will deliver your sample products for free without any charge.
We have tried this offer after seeing it on facebook & they are genuinely sending the free sample products to everyone. follow below steps to order your free sample products.
How to order Stevia Based Sweetner Sample Packets From Nutritual
It seems offer is valid for Gujarat users only ,,,
1. First of all just message them on whatsapp @ +919724676675
2. Now write that 'I want free sample'
3. They reply within few minutes & ask your delivery address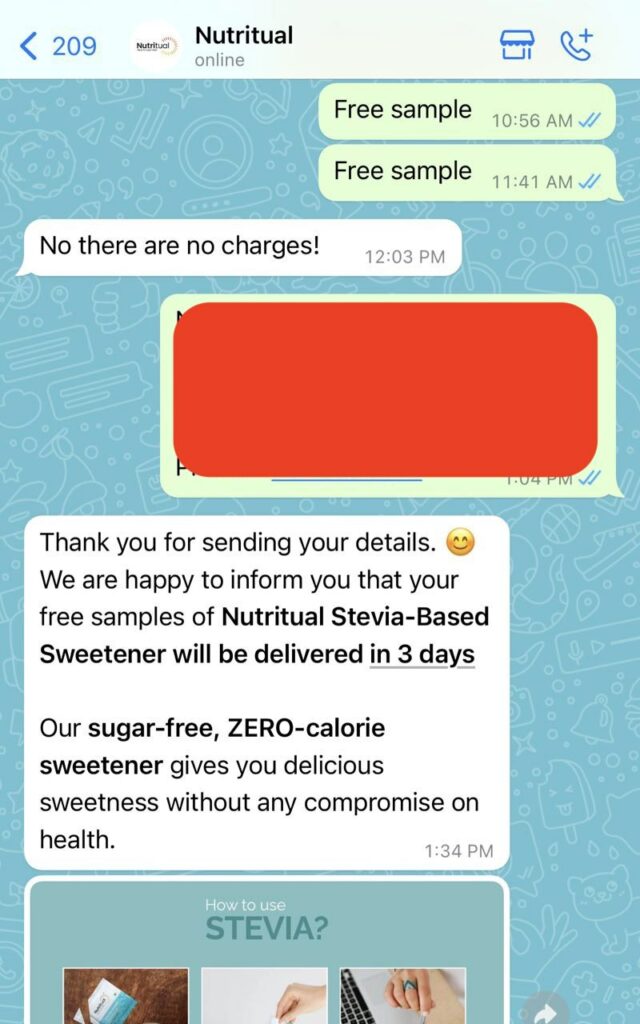 4. Provide them your correct
Name
Address
Email
Phone Number
5. Done !!
6. You will get return message that your samples will be delivered within 3 working days.
7. Enjoy this free sample offer !!
** Offer source – Facebook page of Nutritual
More working free sample offers

:-