Swiggy One Membership Benefits , Price
Swiggy One Membership : Get 1 month Membership at Rs.19
---
Swiggy One Membership Benefits, Swiggy One Membership Price , Swiggy One Membership Plans , How to avail Swiggy One Membership – Who doesn't enjoy eating at a restaurant? Everyone in India enjoys the most exquisite dishes from several best hotels. Further, consumers desire a wide variety of foods as well as they prefer meals when it is delivered to their home at ease. As a result, Swiggy is one of the greatest apps for ordering and receiving delicious food. 
Furthermore, it is regarded as the best & fastest delivery app. In addition, it also has a Swiggy One subscription, which comes with a lot of perks. As a result, before continuing to the topic of swiggy one membership, you need to have a basic understanding of Swiggy. Let's start with Swiggy's very first introduction.
Get Swiggy Membership at Rs.19
1, Visit this link Swiggy One Membership.
2. If you're eligible, it will show 96% Discount on 1 Month Swiggy one Membership
3. 1 Month Membership price is Rs.599. You will get at Rs.19.
4. Add membership to cart & complete the payment of Rs.19.
5. Done. You will get Swiggy one Membership for 1 month at just Rs.19.
6. The offer is valid for selected users. Enjoy the benefits of one Membership.
What is Swiggy? 
Swiggy is an online food ordering and delivery service based in Bangalore. It began in 2014 and is now running well in around 500 Indian cities. It used to solely serve meal orders and a delivery platform, but now it also has a grocery shop part on its app. It's called Swiggy Instamart, which was launched in 2020. 
Meanwhile, Karnataka and Bangalore are home to the company's headquarters. Rahul Jaimini, Sriharsha Majesty, and Nandan Reddy created this well-known platform for foodies. Swiggy can be accessed via its app or website. Swiggy primarily offers three services – Food Delivery, Grocery delivery and online courier service. Lastly, every foodie can order their desired food through Swiggy and can enjoy it.
What is Swiggy membership or subscription

? 
In early 2018, Swiggy introduced its first membership program. The Swiggy super pack was the term given to it. By purchasing this membership, you will be able to avoid paying delivery fees on restaurant orders. Besides, users of the SUPER pack receive free shipping. Moreover, this swiggy super membership offers an advantage that has been taken off by many people. 
In addition, extra discounts and offers are also available. Following their experience with this Pack, all Swiggy users want a subscription or membership pack that would give them further benefits and features. Thereafter Swiggy chose to integrate the pack after receiving comments from the majority of its users, and Swiggy one membership was formed.
What is Swiggy one membership?
Swiggy's one membership offer is a single membership that comes with a variety of benefits. Free delivery, additional discounts on grocery items, and exclusive reductions on restaurant orders are just a few of the advantages offered. Additionally, we aren't required to pay any surge fee. 
More interestingly, we can easily manage or save 350 rupees every month on average. Another thing to keep in mind regarding Swiggy One membership is that if you were a Swiggy Super pack member, you would be automatically promoted to Swiggy One membership at no cost. 
As well as you will not be charged any additional fees, which is a great benefit for all Swiggy users who were formerly Super pack subscribers. Swiggy is still working on improving the interface of the official Swiggy app. And also it is  expanding the rewards of Swiggy One membership. As a result, one of the best membership to purchased immediately.
Swiggy One membership eligible Cities
As of now only Lucknow, Pune, Vijayawada, and Thiruvananthapuram have already executed swiggy one year membership. Besides, Swiggy intends to grow to more than 500 cities very soon. In some areas, we can even see Swiggy's coming soon banners. Hence, it can fear every other delivery app due to this intriguing launch.
Swiggy one membership plans
We easily spend 100-200 Rs daily on our extravagant expenses. Here the price of a Swiggy one membership is approx 100Rs/month which is really low. Anyone can easily purchase it without having any problem and can celebrate several amazing benefits. Besides, you have two options for selecting a membership, as stated in the table.
| | |
| --- | --- |
| Pack Duration | Price |
| 3 month | – |
| 1 year | Rs. 1499 |
Similarly, the three-month subscription costs Rs. 299, or Rs. 100 each month. A one-year membership package, on the other hand, costs only 1499 Rs. per month. Purchasing the 1-year pack has a number of advantages. It offers all of the features for a minimal monthly fee of around 75 Rs.
Swiggy One new Update – Now Free Delivery ON ALL RESTAURANTS
Swiggy one Benefits have been updated.
Now it provides Free Delivery ON ALL RESTAURANTS upto 10 KM.
Minimum order value for free delivery changed from 199 to 149 INR
Zomato is disabling pro plus renewal and swiggy one becoming like swiggy super again
Might be location specific, check your app.
I can see new benefits for Mumbai and Bhubaneswar.
Swiggy one membership Benefits
Below is the list of some Swiggy One membership benefits.
It will provide unlimited free deliveries after being a member of Swiggy One.
You can order food from over 1,70,000 restaurants.
Free swiggy instamart delivery on any order of at least 99 Rs.
Swiggy one members can avail themselves of up to a 30% discount from exclusive restaurants. 
More Benefits Of Swiggy One :
For as long as 10 kilometres, all restaurant food orders come with unlimited free delivery.
From Rs. 199 to Rs. 149, free delivery is offered on food orders.
No upper limit, up to an additional 30% off food orders over and above standard promotions.
For grocery orders over Rs 99, Swiggy Instamart offers unlimited free deliveries.
Additional discounts on 1000+ bestselling items at Swiggy Instamart
Flat 10% off delivery charges for Swiggy Genie orders over Rs 35
How to purchase a Swiggy One Membership

?
First and foremost, download the Swiggy app from the play store or app store.
Afterwards, Create your account on swiggy.
Click on your swiggy account icon.
Now, click on the one membership offer.
Select any one of the two given offers.
Click on Buy plan.
Pay from any of the sources ( Paytm, phonepe, google pay, etc.) 
Congratulations! You are now a Member of Swiggy One. After successfully following these steps you are finally in. 
Note that: If you don't create your account on the Swiggy app, you will not be able to see the section of One membership.
DineOut Benefits For Swiggy One Users

:
Now, it was natural that the Swiggy would offer advantages to its current clients when they visit the best restaurants in your city in order to fully utilise their recent acquisition of Dineout.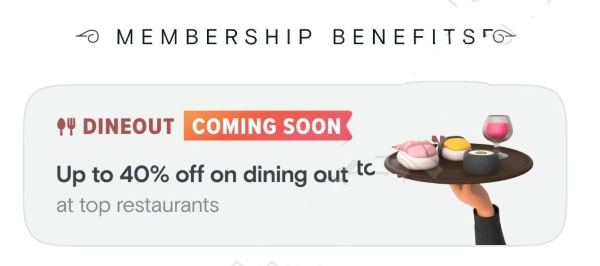 Swiggy had to leverage Dineout's industry-leading network of more than 50,000 restaurant partners even though Swiggy claimed Dineout would continue to function as an independent app in its announcement during the acquisition.
As a result, you will have the choice to choose what you want and get the most out of the membership programme by receiving special perks from the firm whether dining at their favourite restaurants or even ordering meals to be delivered to your home.
Frequently asked questions :-
1)What is Swiggy?
Ans. Swiggy is one the well-known online platforms for ordering food and delivering it.  
2) Is Swiggy an Indian company?
Ans. Absolutely Swiggy is an Indian company launched by Rahul Jaimini, Sriharsha Majesty, and Nandan Reddy in July 2014 in Bangalore.
3) What is swiggy one membership?
Ans. It's an advanced version of Super Pack with additional benefits and discounts.
4) Is Swiggy one membership really beneficial?
Ans. Yes, this membership is extremely beneficial as it provides free delivery, luscious meals from more than 1,70,000 restaurants, discount offers, etc. 
5) What is swiggy one subscription plan?
Ans. Swiggy offers two offers which is Rs 299 for 3 months while Rs 1499 for the entire year.
6) Is swiggy one membership free?
Ans. Yes, this outstanding membership is free for those who already have bought Swiggy Super Pack in the past. So their plan will be automatically upgraded for free.