Growfitter Tips & Tricks Quiz
Growfitter धमाका लूट – Complete Yoga Day Quiz & Get ₹500 Free Shopping
---
Growfitter Tips & Tricks, Growfitter National Sports Day Quiz Answers – Hi Guys, Hope You are enjoying Our Super duper Free Recharge Tricks & Hotstar Free Premium subscription Tricks. Meanwhile , Here come the another free sample in India loot from Popular Health & Fitness rewarding app 'Growfitter'.
International Yoga Day is celebrated every year on 21st June & This year Growfitter app is running the International Yoga Day Quiz. You just have to complete the quiz & You will be rewarded with Assured Prize of Growfitter ₹500 Voucher.
For your convenience we have added the all correct answers of this Growfitter International Yoga Day Quiz. There will be 15 seconds time to solve Each question & There will be total 10 questions. You must need to solve 10 questions correctly to win the assured prize of coffee mug.
Growfitter International Yoga Day Day Quiz – How to Join & Win
1. First of all just download the Growfitter App from this link | Old Users can login into Your existing accounts
2. Now Go to Challenge Section 
3. There You will see this 'International Yoga Day Quiz' challenge , This is available till 30th August only.
4. Click on Join Now Button
5. There will be below 10 questions in different orders , so first read all this 10 question answers & try to remember that.
Growfitter International Yoga Day
Quiz
Answers
1. Yoga originated from which country?
India
2. In which year the first international Day of Yoga celebrated?
2015
3. Doing Yoga everyday is good for your overall well being
True
4. Which Yoga asana is also known as the 'Tree Pose'?
Vrikshasana
5. In Surya Namaskara, how many steps are involved?
12
6. When it comes to controlling the breathe, what is the name of technique?
Pranayama
7. From which language is the word 'Yoga' derived?
Sanskrit
8. What are the benefits of yoga?
All of the above
9. Yoga is best described by which of these phrases?
A spiritual discipline
10. The mountain pose is known as which yoga asana?
Tadasana
6. Solve it on time & you will see 10/10 result
7. Now again go to 'Challenges' Page > Click On Redeem button > You will get Your Free ₹500 Coupon code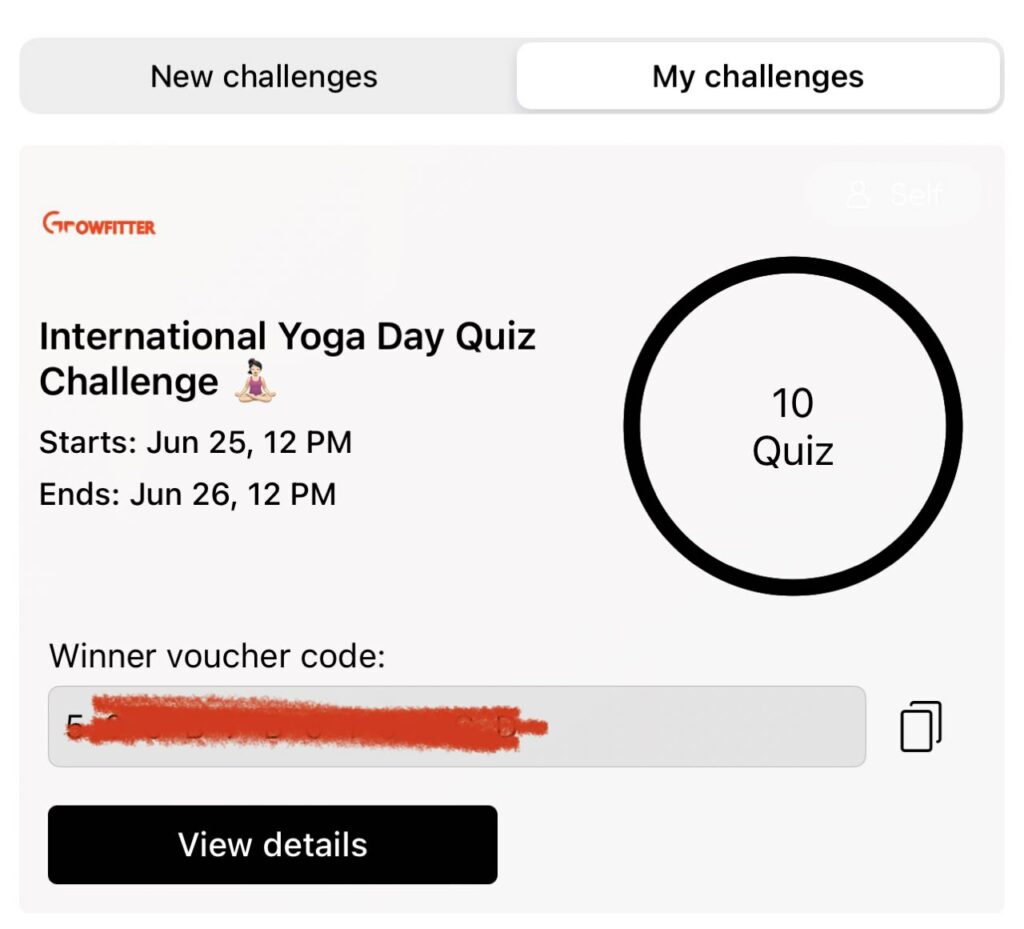 8. Now visit this Growfitter store page –
9. Select Products from Low to high price range
10. Apply the coupon code you received , ₹500 coupon will be applied.
11. Also there will be no shipping charge
12. Complete the order & done !!
—> You will receive your Free Gift soon.