Cred August Expo: The Grand Finale Deals
Get iPhone 14 Pro, Apple Watch, Massage Chair, Nike Sneakers & more at Rs.11
---
Cred August Expo The Grand Finale Deals: The mega event from Cred is coming as August Expo The Grand Final. Last time we all grabbed unbievable deals from Cred Rs.11 Deals. Again, Cred is came with so many products offering at just Rs.11. CRED is a members-only app for users with Experian, CRIF or any other credit score greater than our eligibility score that offers exclusive rewards for every credit card bill payment to members. You can Pay your All Credit or Debit card Bills using this App. 
Get ready to experience the lowest price shopping as the much-awaited Cred Expo: The Grand Finale is set to kick off from August 26th to August 30th. This event will offer a chance to grab some of the most amazing products at unbelievable prices, including the iPhone 14 Pro, Apple Watch Ultra, Nike Sneakers, Massage Chair, and more.
Mark your calendars and set your alarms because the Cred Expo's daily flash sales will be your golden ticket to buy jaw-dropping deals. The clock will start ticking at 1 PM and 5 PM daily, with limited units of each product up for grabs. The early bird will grab the deal, as the faster you act, the higher the chances of getting these incredible deals at just Rs.11!
Best Deals to Grab from Cred August Expo: The Grand Final
Day 1 – August 26th, 1 PM: Get ready to grab iPhone 14 Pro at Just Rs.11. Many more Products will be available at Rs.11.
** Download CRED from Here – CRED Referral Link
Day 2 – August 27th, 1 PM: Grab Apple Watch Ultra at Rs.11.
Day 3 – August 28th, 1 PM: Get ready to step up your fashion game with the Nike Sneakers lineup. Get Nike Sneakers with other Products at Rs.11.
Day 4 – August 29th, 1 PM: Indulge in relaxation like never before as the Massage Chair steals the spotlight. Get Massage Chair at Rs.11, more products will be available at Rs.11.
Day 5 – August 30th, 1 PM: Cricket fanatics, gear up for a chance to grab tickets for the highly anticipated Ind vs Pak match at Rs.11.
Double Delight – 5 PM Offers: But wait, the excitement doesn't stop there! The sale continue at 5 PM daily with a fresh batch of deals to keep the momentum going. It's the perfect opportunity for those who missed the early afternoon window to still grab unbeatable offers.
How to buy Deals from Cred August Expo: The Grand Final?
1, First of all, Download the Cred App from here: Download Cred App
2. Signup with your Mobile Number.
3. Enter your all other details.
4. Link your Credit Card with Cred App. Cred is the platform to pay the bills with Rewards.
5. Move to Shopping homepage.
6. On shopping homepage scroll to – This will help you shop smarter banner, Click on it.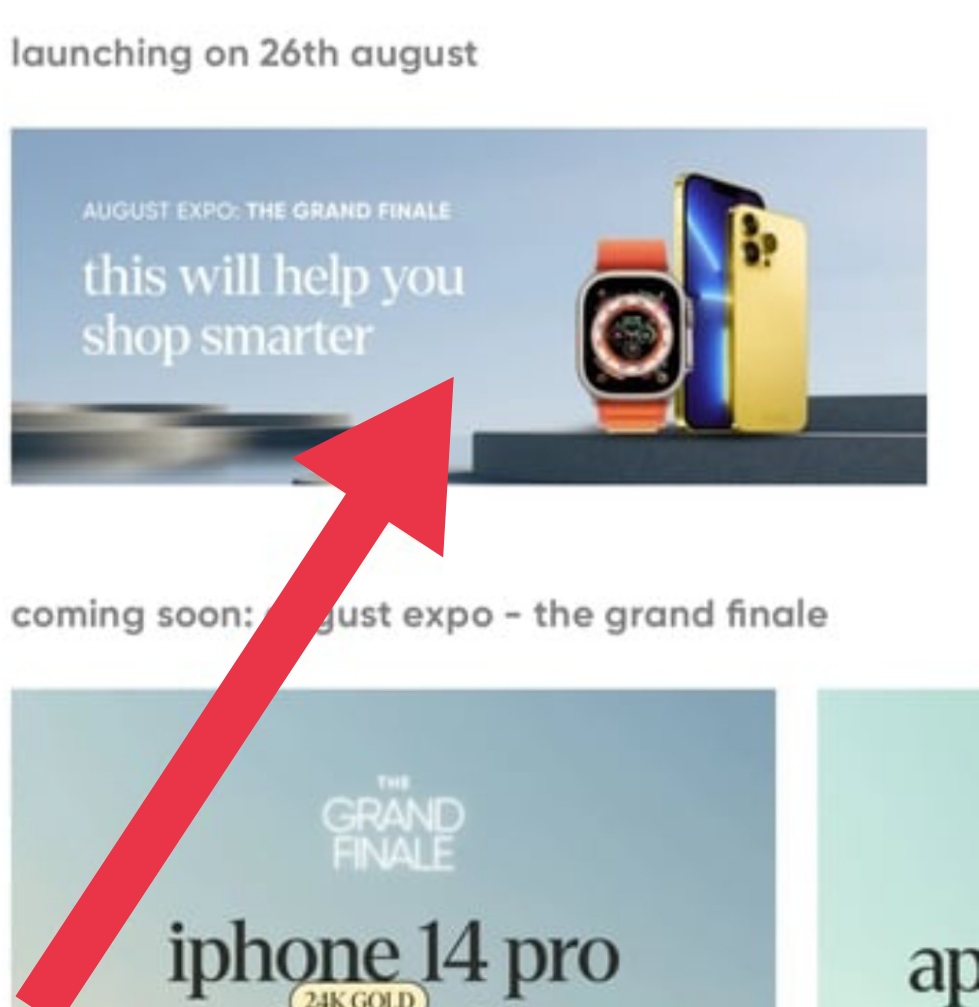 7. Go to bottom of that page & Click on Notify Me.
8. Just Below the above banner – Coming soon August Expo: The grand finale section is available > Click on Notify Me Option.
9. Now, Wait for the sale. keep your internet connection ready with faster phone.
10. Early bird will be able to get Amazing Products at Rs.11.
The Cred Expo: The Grand Finale will be a game-changer in the world of online shopping, bringing the flash sales and unbeatable prices to your fingertips. Whether you're eyeing the latest tech gadgets, fashion must-haves, or once-in-a-lifetime experiences, this event promises something for everyone. Don't miss out on the chance to get your shopping into an extraordinary adventure. See you at the Cred Expo from August 26th to August 30th!