Netmeds First Membership
Get 3 Month Netmeds First Membership with Coupon
---
netmeds first membership free, netmeds first membership fee, netmeds first membership benefits, netmeds first membership coupon, netmeds membership plans, netmeds membership coupon: Netmeds, one of India's leading online pharmacies, is offering a fantastic opportunity for customers to enjoy the benefits of their Netmeds First Membership without any fee for a duration of three months. By using the exclusive coupon code BMS3NFM, users can avail themselves of this limited-time offer and experience the advantages of being a Netmeds First member.
Netmeds First Membership provides customers with a range of benefits that make purchasing healthcare products and medicines online even more convenient and cost-effective. Let's take a closer look at what this membership has to offer.
Netmeds first membership benefits [3 Months]:
Unlimited Free Delivery: With Netmeds First Membership, members can enjoy free shipping on all orders, regardless of the order value. This feature is especially beneficial for those who frequently require medication or health-related products, as it eliminates the burden of additional delivery charges.
Free Consultations: Netmeds First members gain access to free consultations and offers on a wide range of products available on the platform.
Additional 10% off on Lab tests: Get an Extra 10% off on all lab tests across Netmeds App. Existing offer + Maximum ₹100 off on Lab tests.
Additional 2% NMS Cash: Get Extra Cash on every order, Maximum get ₹100 cash on prepaid medicine.
How to get Free Netmeds First Membership?
1. Download the Netmeds app from here: Download Netmeds App
2. Sign up or Login with your number & verify it with OTP.
3. Open the dashboard, Go to Netmeds First Membership.
4. Select 3 Month & Go for checkout.
5. Enter the below Netmeds membership coupon
Netmeds membership Coupon: BMS3NFM
6. Done, You will see the cart value as ₹0.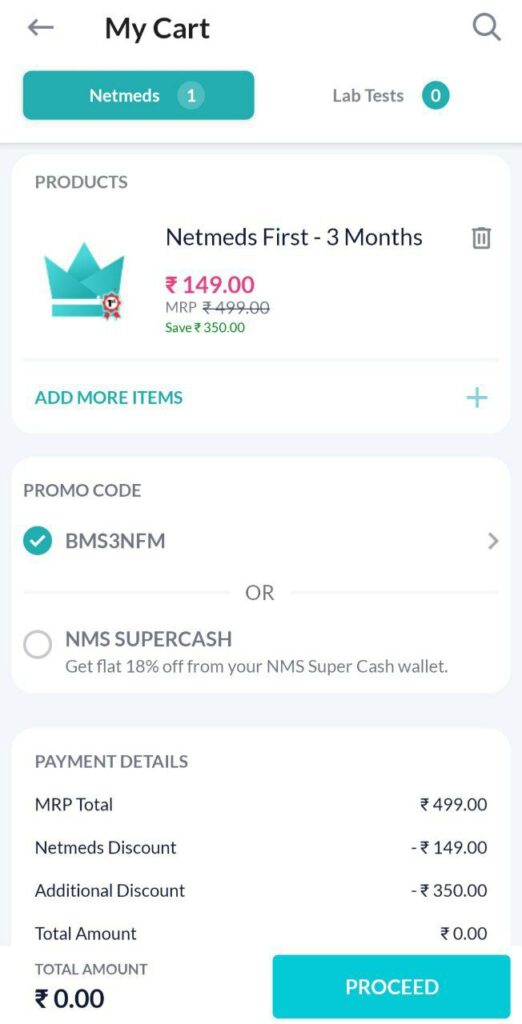 7. Enjoy the benefits of Netmeds First Membership.
Netmeds also offers various membership plans beyond the three months, allowing users to continue enjoying the exclusive benefits of being a Netmeds First member. These plans offer flexibility and affordability, catering to the diverse needs of customers.
In conclusion, Netmeds First Membership provides an array of benefits for customers who frequently purchase healthcare products and medicines online. By availing of the free three-month trial using the coupon code BMS3NFM, customers can experience the convenience, savings, and personalized offers that come with being a Netmeds First member. Don't miss out on this excellent opportunity to enhance your online healthcare shopping experience with Netmeds!