Paytm Rakhi Offer
Send Shagun & Get Get Rs.11- Rs.101 Cashback
---
Paytm Rakhi Offer: This Raksha Bandhan, Paytm is offering the age-old tradition with its "Send Rakhi Shagun & Get 11-101 Cashback" campaign. From August 28th to August 30th, 2023, Paytm users have the chance to send not just their heartfelt wishes but to win cashback rewards. Already you all are getting cashback from Paytm Scan & Pay Offer. Today, Get Up to Rs.101 Cashback from the Paytm Rakhi Offer.
To participate, send an amount greater than Rs.50, ending in the digit 1, such as 51, 101, or 111, from your Paytm app to the recipient's Paytm app. Ensure you have linked a bank account on your Paytm app and transfer the money to a mobile number or a UPI ID. The most exciting part is that lucky recipients can win cashback ranging from ₹11 to ₹101. The cashback will be credited through scratch cards.
We are adding step by step procedure to claim this offer and earn free cashback from the Paytm Rakhi Offer. Read out the steps & get Free Paytm Cash from this offer. Remember, this offer is applicable only once per recipient during the campaign period.
How to get Up to Rs.101 from Paytm Rakhi Offer?
1, First of all, Update the Paytm App.
2. Open the app & Go to Cashback & Offer section.
3. Scroll below, You will find the small strip-type banner for activating this offer.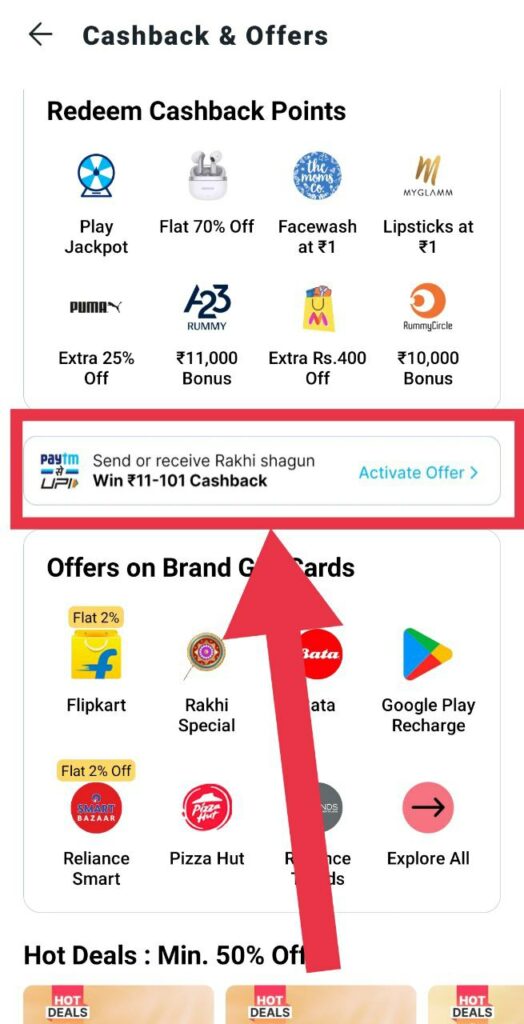 4. Click to activate the offer.
5. Now, Send money more than Rs.50 & ending with 1 like 51, 101, or 111, from your Paytm app.
6. Done, You will get cashback in terms of Scratch Cards in the Cashback & Offers section.
7. A scratchcard worth 11-8101 cashback will be received before September 10, 2023, in the Paytm app.
8. Enjoy the cashback.
Rules Of The Campaign
You need to send any amount greater than Rs.50 ending in 1, for ex, 51, 101, 111 etc
It is valid only when you send from your Paytm app to receiver's Paytm app
You will need to link a Bank A/c on Paytm (if not done already)
You can transfer money from your Bank A/c to a Mobile number or UPI ID
Lucky 2L receivers will receive 11-101 Cashback
The receiver can locate the offer & scratch card in Cashback & Offers section
This offer is applicable once per receiver in this campaign duration
Rewards of the offer:
A scratchcard worth 11-8101 cashback will be received before September 10, 2023 in the Paytm app
Cashback will be credited in receiver's bank account linked on Paytm UPI on scratching the scratch card
Paytm reserves its absolute right to withdraw and/or alter any terms and conditions of the offer at any time without prior notice