Rupay Scan & Score
Get Free Shopping, Travel, Movie, Can, Fashion & more Vouchers from Rupay Scan & Score
---
Hello Guys, We are back with another offer from which you all can grab Free Vouchers on transactions. You can use Rupay Credit card on UPI payments & get Free Vouchers. We have also trick to get Rupay Credit Card for free Rs.250 in Bank. Here are some details to the offer.
Ready. Steady. RuPay! RuPay Scan & Score is aoffer that gives your everyday RuPay Credit Card transactions on UPI (Unified Payments Interface) into a rewards. With each transaction, you step closer to prizes as different vouchers.
We have added procedure to claim the offer & Get different vouchers. Not only this, We are adding a offer of Free Rs.250 from Kiwi App on opening a Rupay Credit Card with UPI Enabled transaction.
How to avail the Rupay Scan & Score Offer?
1, First step is to get Rupay Credit Card. You can get Free Rupay Credit Card & Get Rs.250 in Bank by Creditable the Kiwi App. Download & Get from below link.
2. After getting card, Do your first Transaction. You will get Free Rs.250 directly in Bank.
3. Spot the RuPay Scan & Score QR or Digital Banner. Keep an eye out for the distinctive RuPay Scan & Score QR codes or digital banners at Rupay partner merchant outlets, websites, or apps.
4. Scan & Pay with your Rupay Credit Card through UPI. For every ₹100 you spend with your RuPay Credit Card on UPI, you receive 1 RuPay Coin. The more you spend, the more coins you collect.
5. As you collect RuPay Coins through your UPI transactions, you progress towards these milestones given below in table. It's important to note that you can only unlock a new trophy after you've unlocked the previous one.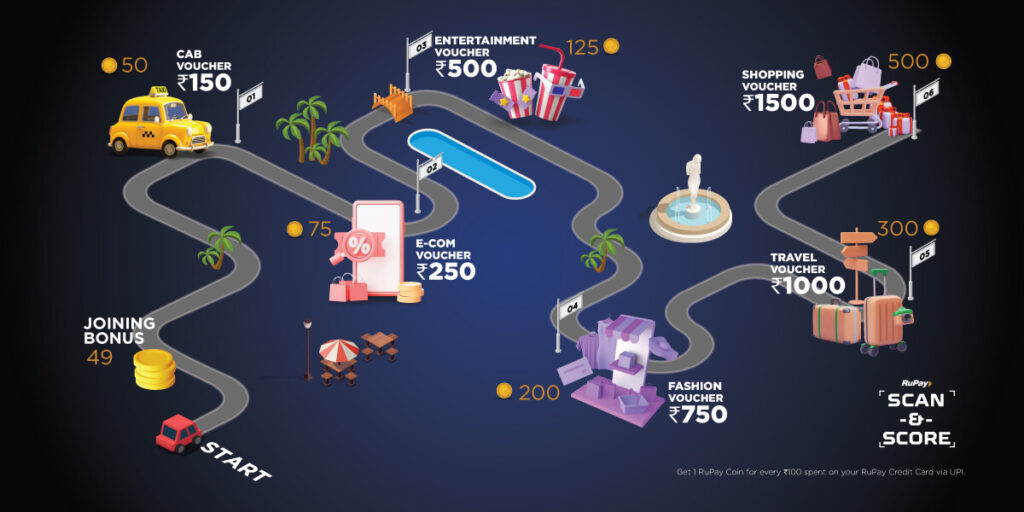 | | |
| --- | --- |
| Scan & Score Milestones | Coins Need |
| Signup Reward | 49 |
| Cab Voucher worth Rs.150 | 50 |
| Ecom Voucher worth Rs.250 | 75 |
| Movie Voucher worth Rs.500 | 125 |
| Fashion worth Rs.750 | 200 |
| Shopping worth Rs.1500 | 500 |
| Travel voucher worth Rs.1000 | 300 |
More Offer details here.