Fabpiks Free Samples
Sign up & Get 6 Trial Points, Avail Free Samples from Trial Points
---
Fabpiks App Referral Code Free Sample Trial Points: Hello Guys, We are back with another Huge App giving Free Samples in India, Similar to the Smytten App Free Sample, here is another app named Fabpiks App. In today's world, where there is an overwhelming number of products available in the market, it can be challenging to find the ones that suit your preferences and needs.
That's where Fabpiks comes in. Fabpiks is an innovative app that allows users to discover and enjoy full to medium-sized products from exciting brands for free. With its in-home product experience platform, Fabpiks offers a wide range of trials across various categories, including beauty, makeup, food, wellness, hair care, beverages, and many more.
One of the standout features of Fabpiks is its trial points system. When you sign up on the app, you are immediately rewarded with 6 trial points. These trial points can be used to avail of free samples of products offered by different brands. All you need to do is pay a nominal fee of Rs 166+GST towards servicing and shipping, and you can enjoy up to 6 trials without any additional charges or hidden costs. It's a fantastic opportunity to try out new products and explore what works best for you.
Fabpiks also offers an enticing rewards program. Apart from the trial points, you can earn reward points through various activities such as signing up, referring friends, participating in trials, and completing surveys. These reward points can be redeemed for exciting goodies from the reward store. It's a fantastic way to enjoy additional benefits and receive exclusive products from leading brands.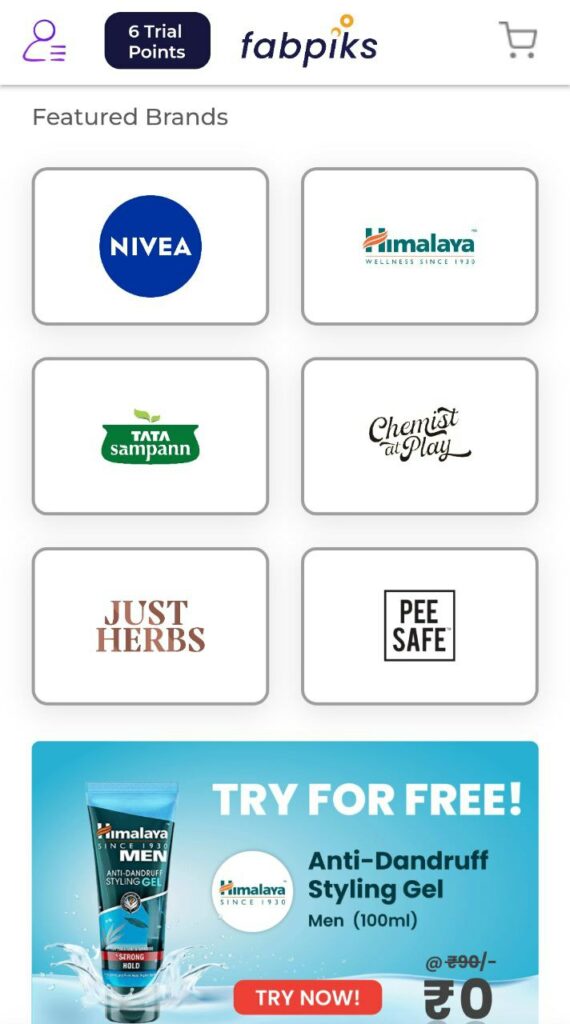 How to get Free Samples from Fabpiks App?
1. Download the app from here: Fabpiks App Download
2. Login or Sign up on Fabpiks App.
3. On Signing up, You will get 6 Trial Points.
Enter the Referral Code: 1D3A0C1F
4. Add the products using trial points, your real total MRP will be ₹1000+. After adding products using trial points, You have to pay around ₹225 including GST.
5. You will get products at up to 90% off as a sample from the Fabpiks app.
6. Fill Survey, Refer friends to get more trial points & Fabpoints.