Times Of India Quiz Answers
TOI Quiz Answers: Get Free BBQ Vouchers & Marchandise
---
Hello Guys, We are back with another reward giving quiz. Get a chance to Win Free Barbeque vouchers from TOI Special Quiz. We have added answers of Times of India Quiz, Complete & win Free Vouchers & TOI Merchandise. You all are winning prizes & Free Amazon pay balance from Amazon funzone quiz answers today, now get from TOI Quiz.
The TOI offers the latest news from India & World in 14 languages including English, Hindi, Telugu, Tamil, Malayalam, Bengali, Gujarati, Kannada, Punjabi, Nepali & more. The TOI presents everything that an avid news reader is looking for – breaking news, the latest headlines, trending stories, & in-depth coverage of sports like cricket live blogs, entertainment, business, & technology. From India to World news, Political to Sports news, Technology to Bollywood news & movie reviews, your daily hunt for all kinds of news in one place ends with us.
At this time, TOI is organizing Special Quiz from which users can just answer few questions to Win Free BBQ Vouchers worth Rs.2000 and Times Of India Merchandise. Complete the quiz & read out the steps to get a chance to win from Times Of India Quiz Answer.
How to win Free Vouchers from TOI Special Quiz?
1, Firstly, Visit the Quiz Page from here: Times Special Inquizitive Quiz
2. Click on start.
3. Fill your details like name, number, email & correct address to receive prizes.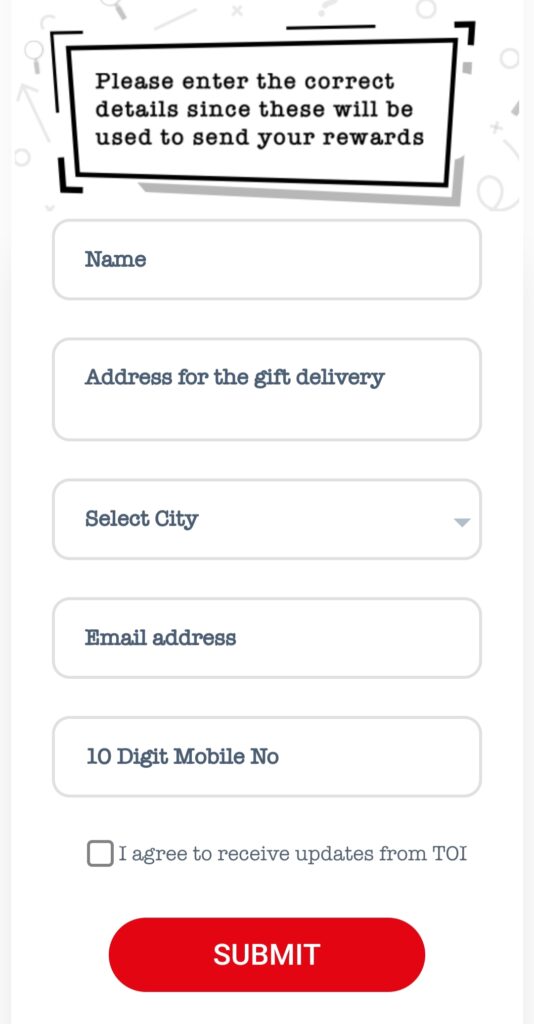 4. Quiz will start, Answer the questions like below.
Mohun Bagan
Ferrari
Flamingo
5. After giving the answers, you will be eligible to win Times Merchandise or BBQ Vouchers.
6. Play TOI Quiz, every Sunday to win Free Prizes.
7. 150 Winners will be selected every week.
8. Quiz will be live till 7th September 2023.
9. We will update the answers, keep this page save to win Free vouchers & merchandise from TOI.